Motivation-Based Interviewing eLearning (Self-Paced) Course
$219.00 – $239.00
NEW Motivation-Based Interviewing eLearning Course
Description
Motivation-Based Interviewing eLearning Course
Taught by Carol Quinn, creator of Motivation-Based Interviewing
NOTE: THE WORKBOOK FOR THIS COURSE IS RECOMMENDED BUT OPTIONAL. WORKBOOK MUST BE ORDERED AT TIME OF PURCHASE. SHIPPING IS NOT INCLUDED. TO RECEIVE A WORKBOOK YOU MUST SELECT A SHIPPING OPTION. WORKBOOKS ARE NOT SOLD APART FROM TRAINING – NO EXCEPTIONS.
Learning MBI is a breeze with this self-paced Interactive Course
This cutting edge, online training is an updated version of our popular MBI Web Course, and now includes an 82-page workbook. It's narrated by Carol Quinn, and takes 40% less time than the instructor-led workshop. A must for interviewers at every level of your organization. Learn how to hire High Performers for any job – from hourly to CEO. Using our online course, you can learn at your own pace – stop and start as you like without losing your spot. The course requires approximately 4.5 hours of time to complete. Successful completion entitles the learner to an 8″x11″ Certificate of Completion suitable for framing. At the end of the course you will evaluate a virtual interview, and make a hiring decision. The you will compare your assessment of the candidate to Carol's.
This course has Three Sections:
Section I
Understanding High Performers
MBI Introduction
Attitude & The Process of Achievement
Locus of Control
Passion and Career Fit
Motivation + Skill
Section II
Identifying High Performers
How to Write MBI Questions
How To Assess/Score Skill & Locus of Control
How To Assess/Score Career Fit… Plus Career Fit Questions
How To Gather
Section III
Hiring High Performers
The MBI Hiring Standard and Interview Guide
Practice Interview
Interview Video Scoring and Feedback
Additional MBI Wisdom
Organization Dashboard
If you have multiple learners, our Organization Dashboard lets you track their progress, see available activations and more.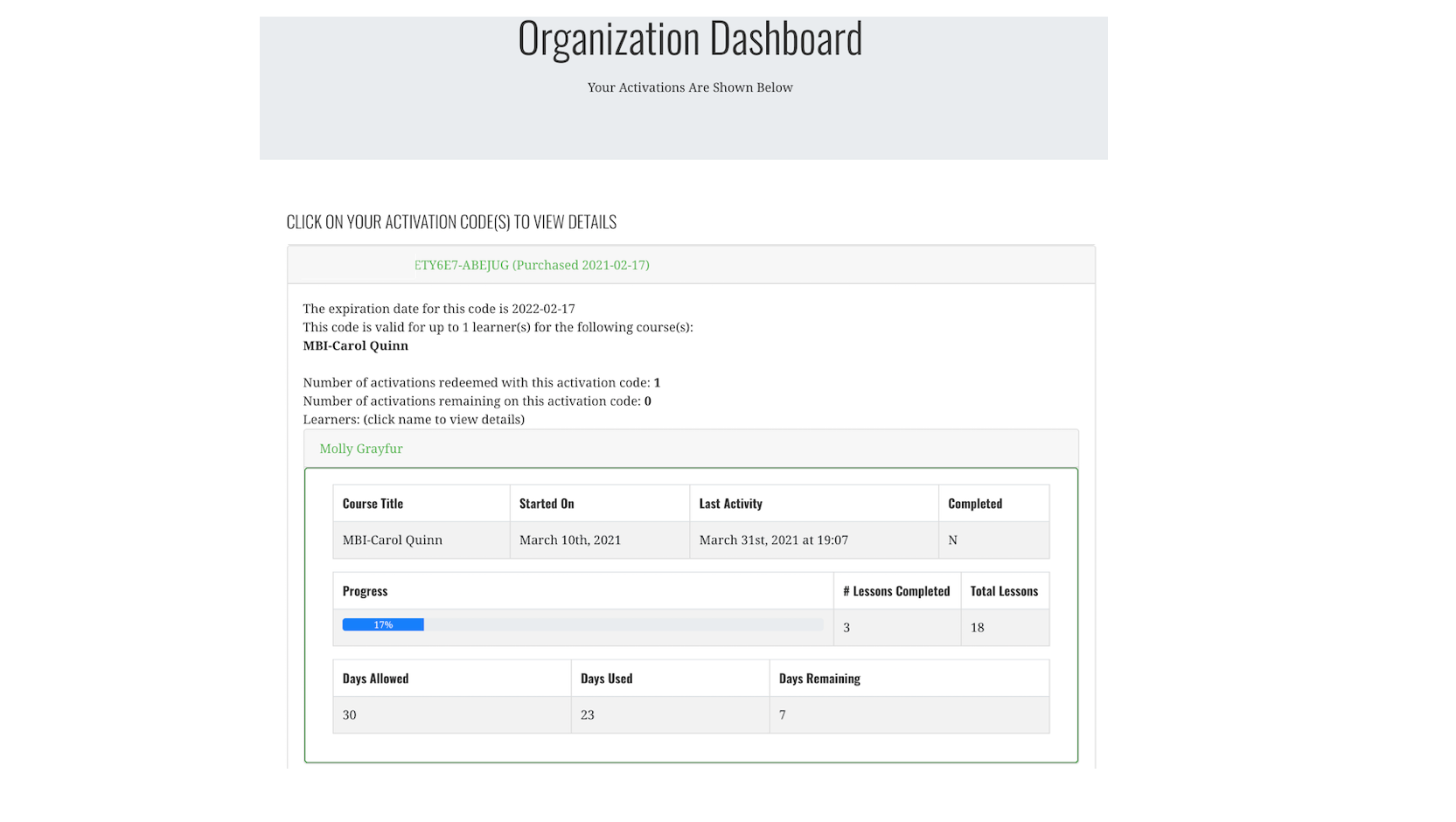 Key Learning Objectives
Understand the definition of "High Performer"
Understand HOW High Performers achieve better results
Identify the 3 components inherent in ALL High Performers
Learn the connection between Attitude and Achievement
Learn the science behind Attitude: Locus of Control
Learn the power of Passion as a natural motivator
Learn the importance of staying objective
Learn interviewing Best Practices
Learn the key to assessing motivation – correctly!
Learn how to write GREAT interview questions and practice
Determine a candidate's "predominant" response towards obstacles
Understand the "Interview Relationship"
Learn techniques to get your candidate's guard down and talking more freely
Learn the recommended MBI standard for hiring High Performers
Review Summary
This is an interactive experience involving practice exercises in every section to test your skill.
Purchaser will receive a single 'Activation Code' redeemable for the total quantity of activations purchased. One activation per learner is required. Learner has 30 days to complete the course upon enrollment in the course. Activation codes are valid for 12 months from date of purchase. For multiple learners, an organization dashboard is provided so that an administrator can track each learner's progress as well as see an inventory of available (un-redeemed) activations.
One activation per person is required.
Additional information
| | |
| --- | --- |
| Weight | 12 oz |
| Dimensions | 9 × 12 × .5 in |
| Workbook | |