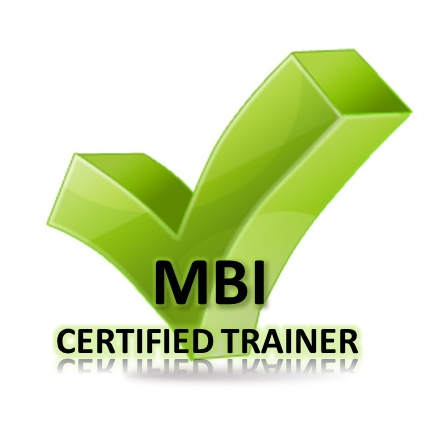 MBI Train-The-Trainer Course (eLearning + Classes via Zoom)
$2,999.00
Description
New for 2023! This course has been updated and improved by combining class time via Zoom with a series of self-paced eLearning Lessons taught by noted author and creator of MBI, Carol Quinn.
Click HERE to see the schedule of upcoming workshops.
PLEASE NOTE: You MUST add one Starter Kit  to the cart for EACH person who will be attending the course before you checkout.
READ THIS FIRST: Within 10 minutes of purchase, you will receive three emails:
Email #1) Your receipt
Email #2) Zoom registration code(s) for your class time via Zoom
Email #3) An eLearning Activation Code for your self-paced lessons. 
If you don't see all 3 of these, PLEASE CHECK YOUR SPAM FOLDER before requesting assistance.
Please register for your class time via Zoom IMMEDIATELY TO ENSURE YOU RESERVE YOUR SEAT.
Please use your eLearning activation code NO EARLIER THAN 30 DAYS PRIOR TO THE FIRST DAY OF YOUR WORKSHOP TO AVOID HAVING IT EXPIRE BEFORE OR DURING YOUR WORKSHOP.
The emails contain detailed instructions on how to register for your Zoom class time and how to activate your enrollment into the e-Learning portion of your course.

An individual registration code will be issued for each Train-the-Trainer course you purchase. You will receive a single activation code for the eLearning portion of the course, which can be redeemed for the total number of courses purchased. You will be able to select from available class dates during the registration process.  If multiple courses are purchased, each attendee will need to complete the registration and activation procedures as described in the emails.

The MBI Remote Train-The-Trainer class time consists of 4 sessions, held on Mon-Wed-Fri-Mon, 4 hours each, in conjunction with self-paced eLearning lessons. Completion of the eLearning lessons and attendance during all class time is mandatory. To become a Certified MBI Trainer, you are required to have participated in an MBI instructor-led workshop prior to attending the Train-The-Trainer Course. The MBI Remote Learning Workshop Part I & II satisfies this prerequisite, however, the MBI Self-Paced eLearning Course does not, because it is not instructor-led.

COURSE OBJECTIVES:
Gain a higher level of MBI knowledge.

Learn to follow your Facilitator Guide to teach MBI.

Learn how to conduct your own MBI workshop.

Pass the Certified Trainer Exam and become a Certified MBI Trainer.
This program registration is non-refundable but may be changed or transferred. Please read our Change/Cancellation Policy HERE.
---